WE DO IT ALL!
WHO CAN CRANE 10 TONNE PRODUCTS? WE CAN
WHO HAS CRANES THAT EXTEND TO 27 METERS ? WE DO
ON THE MOVE TRANSPORT – CRANE TRUCK HIRE & TRANSPORT SERVICES
We transport and crane products other companies can't. We have specialized rigid crane truck and semi crane trucks for your next project.
Specialized Equipment –
Cranes lifting from 4 tonne to 10 tonne
Cranes extending to 27 meters
Drop deck trailers
Extendable flat deck trailers
Give us a call today on 0422146659 or visit our website at www.otmtransport.com.au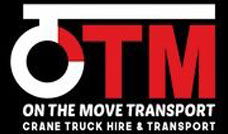 OBLIGATION FREE QUOTES!