We provide mobile crane truck hire or crane truck rental and transport services in South East Queensland, including Gold Coast, Brisbane, Toowoomba, Sunshine Coast and Northern New South Wales regions. We have a mixed fleet of trucks, including crane trucks, flatbed trucks, semi trucks and semi crane trucks ranging from 6 to 24 tonne carrying capacity. Our mobile cranes have lifting capacities from 1 to 10 tonne and crane extensions from 1 to 30 meters in length.
Crane Truck Rental In Gold Coast And Brisbane
We transport and crane machinery, steel, timber, concrete products, signs, 20' and 40' containers, installation of traffic lights and all general freight. All of our crane trucks, Container Transport and vehicles have certified lifting equipment to provide a safe working environment for everyone. Our main focus is to provide professional customer service, Gold Coast crane truck hire and transport service in the industry.
Contact Us for Crane Truck Hire and Truck Transport Solutions
Our mobile crane trucks for hire makes it easy to crane and transport products out of restricted areas. By using our crane truck services, we will save you time, money and take the hassle out having the right equipment to load and unload your products. Self-loading and unloading crane trucks are the most effective way to get your deliveries done efficiently. All of our drivers are experienced and ticketed to provide a premium and safe crane truck hire service.
We have the capability to get your whole project completed in Gold Coast or Brisbane with our diverse truck fleet of crane trucks for hire. No job is to big or to small for On The Move Transport. 
Our Specialized Crane Trucks for Hire
We have specialised crane trucks for hire that can lift up to 10 tonnes and cranes that extend up to 30 meters. Whether you need 1 tonne lifted or a 10 tonne lifted – we have got you covered. We can transport and crane your products into place or install products on your required projects. On The Move Transport is the leading crane truck hire Brisbane and transport service provider in South East Queensland by offering our clients value for their business.
Our Crane Truck Hire Services And Areas We Services
SERVICES
Crane Truck Hire
Flatbed Truck Hire 
Semi Truck Hire
Semi Crane Truck Hire 
Pilot Escorting Services
AREAS WE SERVICE
Gold Coast – Brisbane
Ipswich – Toowoomba
Sunshine Coast – Noosa 
South East QLD – Northern NSW
Interstate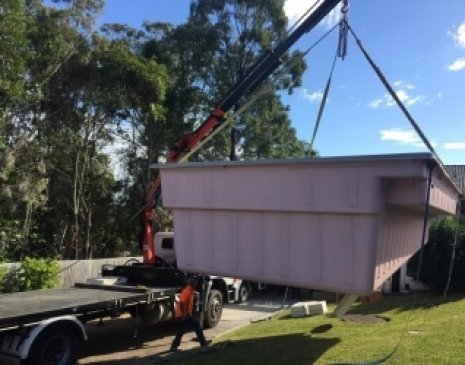 We have a range of flatbed trucks for hire with different tray sizes and carrying capacities. The smaller flatbed trucks can handle up to 6.5 tonnes, while the semi flatbed trucks can take up to 24 tonnes in carrying capacities. Flatbed trucks are perfect to transport just about anything, from pallets to long lengths of steel and timber. 
Tilt Tray Trucks For Hire
Winch your container or building on our tilt tray trucks and transport them anywhere. We can drive your machinery onto the truck, which is why tilt tray trucks are perfect for certain jobs. We also have a tilt/crane truck in our fleet, making it the most versatile truck of all. Perfect for containers, buildings and machinery.
Our semi crane trucks for hire make it for you to crane and transport big and bulky items. Cranes lifting from 1 to 10.5 tonnes and reaching from 7 to 30 meters in length. With our semi crane trucks we can install your items and also lift your items to the top floor effortlessly. Trailers for our semi crane trucks include, normal flat deck trailer, drop deck trailers, float trailers and up to 25 meter extendable trailers. We understand that all items are different in shape, size and weight and that is why OTM Transport has a variety of trailers to cater for all your semi crane trucks needs.
Cranes for hire on the Gold Coast and Brisbane are necessary to complete construction projects. OTM Transport has a versatile selection of cranes with different lift and reach capacities. All of our cranes are certified and come with professionally trained drivers. Let us take the hassle out of your crane hire needs and get your project completed safely and efficiently. We can also transport your items to site and the crane them into place, which will save you time and money.
Whether you need a crane truck, flatbed truck, semi truck or a semi crane truck for hire – we have got it all.Our crane trucks can lift and shift from 100 kg – 11 tonne (per lift) which means that we crane and transport products to any desired location. When using On The Move Transport Crane Truck Hire & Transport Services you are assured that you will receive a premium service to which our main focus is customer service, safety and to provide the most efficient and reliable transport solution for everybody
What makes us the go-to providers of mobile crane truck hire and transport hire in South East Queensland including Gold Coast and Brisbane ?
All of our crane trucks and vehicles are well maintained and clean to be able to provide our clients with a reliable service. If it's a crane truck hire or transport solution you need – make sure you give On The Move Transport a call today for an obligation free quote. It doesn't matter where you're located, whether it's Brisbane North side, Gold Coast or the surrounds, our crane truck hire and transport hire services are unsurpassed. With years of experience in the industry assisting clients for a variety of projects and applications, we understand the importance of keeping our machinery in premium condition.
On The Move Transport – Crane Truck Hire & Transport Services.
South East Queensland, including Gold Coast, Brisbane, Ipswich,
Toowoomba, Sunshine Coast, Noosa and Interstate.
Crane truck hire, Flatbed truck, Semi truck and Semi crane truck for hire.
For all your crane and transport needs give us a call on 0422 146 659 or 0468 758 019.