Introduction –
Delivery and pickup are the two most important components of any business. Every business needs a fleet of reliable and fast delivery and pickup services to attend to the needs of its clients. As important as it is, having a reliable partner with a good network of pickup and delivery vehicles is essential for any construction business. But it is not just restricted to construction sites.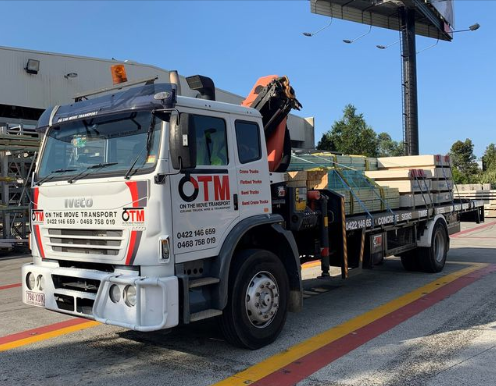 Due to the rising need for cranes in construction and other industries, the crane business is anticipated to expand. As a result, businesses in need of crane rentals have a wide selection of companies to pick from. Few companies could function without cranes in today's society because of how important these lifting devices are to civilization. However, these enormous instruments have been used beyond only buildings. For companies in various industries, cranes can provide heavy lifting.
Many other industries that require the utilization of heavy load lifter vehicles are residential and commercial construction sites, telecommunication companies, steel manufacturers and construction sites, etc.
The best crane truck hiring company –
OTM transport is the best Crane truck hiring company in Australia, holding a wide and reliable fleet of heavy-load lifting vehicles in all the major states of Australia. It is a family-run company with offices in Brisbane and the Gold Coast, and we take great pride in the services we offer to our customers. On The Move Transport offers crane truck hire and transport services in South East Queensland, encompassing the Gold Coast, Northern New South Wales, Ipswich, Brisbane, Sunshine Coast, and neighboring locations.
We are the top transportation company on the Gold Coast and in Brisbane because of our wide truck fleet, which includes flatbeds, tilt trays, cranes, and semi-crane vehicles with cranes ranging from 1 to 30 meters. In order to offer everyone a quick and dependable transportation alternative, the company places a priority on customer service and safety. They provide services to all industries, from residential and commercial building and construction to civil, gas, oil, mining, and large infrastructure projects.
Our services –
Having a diverse collection of trucks for various works and projects is necessary to provide crane truck rental and transporting services to various markets. On The Move Transport is pleased to serve as your one-stop shop for all your transport and crane requirements. The company's expertise in the field is demonstrated by years of effort and attention to ensuring a secure working environment by employing qualified drivers who are licensed to operate every piece of machinery.
Conclusion –
Thus, OTM transport is one of the best companies for heavy-load truck and crane providers and has a wide network spanned almost all across Australia. They are the most reliable and customer-centric transportation company to provide its clients with the best services. Their major priority is focused on transporting the goods in the best and intact condition to their customers. Right from your place of dispatch to your place of delivery, OTM transportation will take care of your goods on their own.