In the construction industry, crane trucks and mobile cranes are essential. They're required for infrastructure work because they allow for the safe transportation and hoisting of large objects. Powerful lifting cranes are used in almost every project that requires construction or demolition. Cranes, on the other hand, aren't just for building projects. It is common practice to use a crane or crane services whenever heavy equipment needs to be moved. Trying to move large pieces of equipment can be stressful and time-consuming. You must ensure that all items are delivered in a safe and timely manner. Take a look at the infographic below to learn more about how crane trucks can be a more dependable option for your next construction project.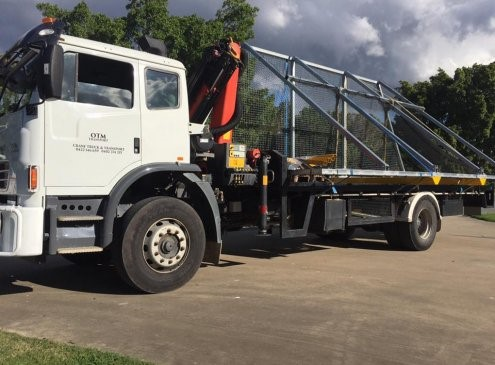 Transportation that is quick and effective:
Heavy items may be able to be transported in regular trucks and trailers. When carrying a heavy load, however, they will move slowly. They are also not as advanced as trains, so you will not have smooth rides. Cranes with a distinct design are available for the quick and smooth transportation of bulk loads. They can easily withstand rocky roads and other variables that could cause transportation to be slowed. As a result, a crane provides the ability to haul larger loads quickly and smoothly.
Tailored to your needs:
A crane can be chosen from a variety of options. Cranes come in a variety of shapes and sizes to accommodate a variety of lifting and transporting tasks. Depending on the size and weight of the machine or items you need to transport, you can select the appropriate crane. A standard mobile crane can transport and lift a wide range of heavy objects. A truck-mounted crane may be necessary if the load is heavier than usual or if fragile items are involved. For extra-heavy loads, truck-mounted cranes offer excellent mobility and stability. If you need to install heavy machinery on the roof of a building, you'll need a tower crane.
The safest way to get around:
The majority of cranes have features that ensure that all items are loaded and secured properly. You will have peace of mind with the load belting and other safety features. It's unlikely that the machine or equipment will fall off and cause damage along the way, reducing the value of your investment. Furthermore, some cranes are extremely sophisticated. If your load contains multiple types of items, some cranes have enough space to keep them separated. Extra belts and securing restraints work well to keep a certain amount of load safe, if it is selective or fragile.
What is the best way to locate the right crane?
Working with a professional crane truck hire services provider is the best option. Crane service companies provide professionals to help you get the job done faster. Experienced professionals have a better understanding of the machines than anyone else. It provides you with the necessary flexibility to quickly arrive on-site. If you are involved in construction or any other heavy lifting work, hire a crane truck service to reap numerous benefits. It is a more practical option that every construction business or enterprise should consider.