Do you own a business with a warehouse? Then, at some point, you need to relocate your warehouse to meet the growing demands of your business. In such cases, you need to choose the vehicle used for relocation with caution. Choose one with proven effectiveness in hauling loads. A flatbed truck seems like the best option. A flatbed truck is a vehicle with different bodywork compared to others. As the name suggests, it has a flatbed with no sides or roof. It looks different from the regular pickup trucks used to haul loads. Such trucks aid businesses with better transportation by the logistics industry. It feels like the perfect option for moving your warehouse due to the following reasons:
Ease Of Loading and Unloading
The flatbed trucks have no roof or sides surrounding the bed. So, it has a larger surface to store items from your warehouse compared to other box truck or pickup options. It becomes easier to load and unload using a hand or crane with no sides. It offers a smoother experience while relocating the warehouse.
Save Time
It is possible to load/unload the items in any direction. Due to the ease of loading and unloading, you can save time. It will reduce the downtime caused due to warehouse relocation. It also enhances operational efficiency. But, you need to choose a service that fulfils the delivery service on time.
Lower Trips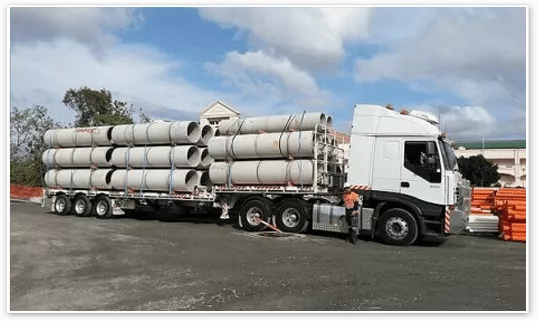 Due to increased storage space, the flatbed truck fits more cargo than other options. So, you can fit almost everything in your warehouse in one or more trips. It also reduces the number of trips used to drive back and forth from the old location to the current warehouse location. Reduced driving times mean you can set up your new warehouse faster. It will save you money due to less fuel consumption.
Flexible Hauling
Your warehouse may have different types of items. Using a flatbed gives you the flexibility to load anything of several sizes. The open structure of the vehicle makes hauling of different types of freight easier. Also, expert movers can equip it with flatbed trailers with unique functions for different jobs such as furniture or pallet move. It may also facilitate the loading and unloading the heavy, long, and wide loads that may not fit other vehicles. So, irrespective of the items in your warehouse, you can relocate them to the new warehouse location using a flatbed truck.
To ensure you can relocate your warehouse safely, get assistance from expert moving services with experience in serving customers to their satisfaction.
OTM Transport is the ideal choice if you want the best services. The family-owned business operating in the Brisbane and Gold Coast area offers clients flatbed truck for hire services.
Easy Load Relocation
The flatbed trucks for hire can carry loads from six to thirteen tonnes with ease. The truck for hire services has different models that can carry loads of diverse capacities depending on the customer requirements. By using the truck services of the best in the field, you save your precious time, money, and energy. The team of experts will handle everything to make the relocation easier.
Experienced Team
Apart from having self-loading and unloading crane trucks, the team also has qualified professionals with years of experience. It ensures you get superior and safe service.