It has become easy to hire crane trucks in Brisbane and the Gold Coast as there are so many companies that offer crane truck hire and transport services. If you want to complete your project on time and with ease, then you need versatile crane trucks. You should visit otmtransport.com.au to find out about various options. You can find crane truck rental, mobile crane trucks, and transport services. You can find a mixed fleet of trucks, including semi-trucks, flatbed trucks, crane trucks, and semi-crane trucks. There are so many benefits to hiring these trucks and machinery, and a few of them we have mentioned below:
Perform tasks quickly:
These advanced machines and cranes are designed to complete tasks more quickly. These cranes can help with moving, lifting, and transporting things at any height and anywhere. This can be a valuable asset for any construction industry. Crane truck hire services can turn out quite helpful. You can find a wide range of cranes, like truck cranes, residential cranes, industrial cranes, hydraulic cranes, mobile cranes, and more, that can be used in a wide range of applications. These services can help your business.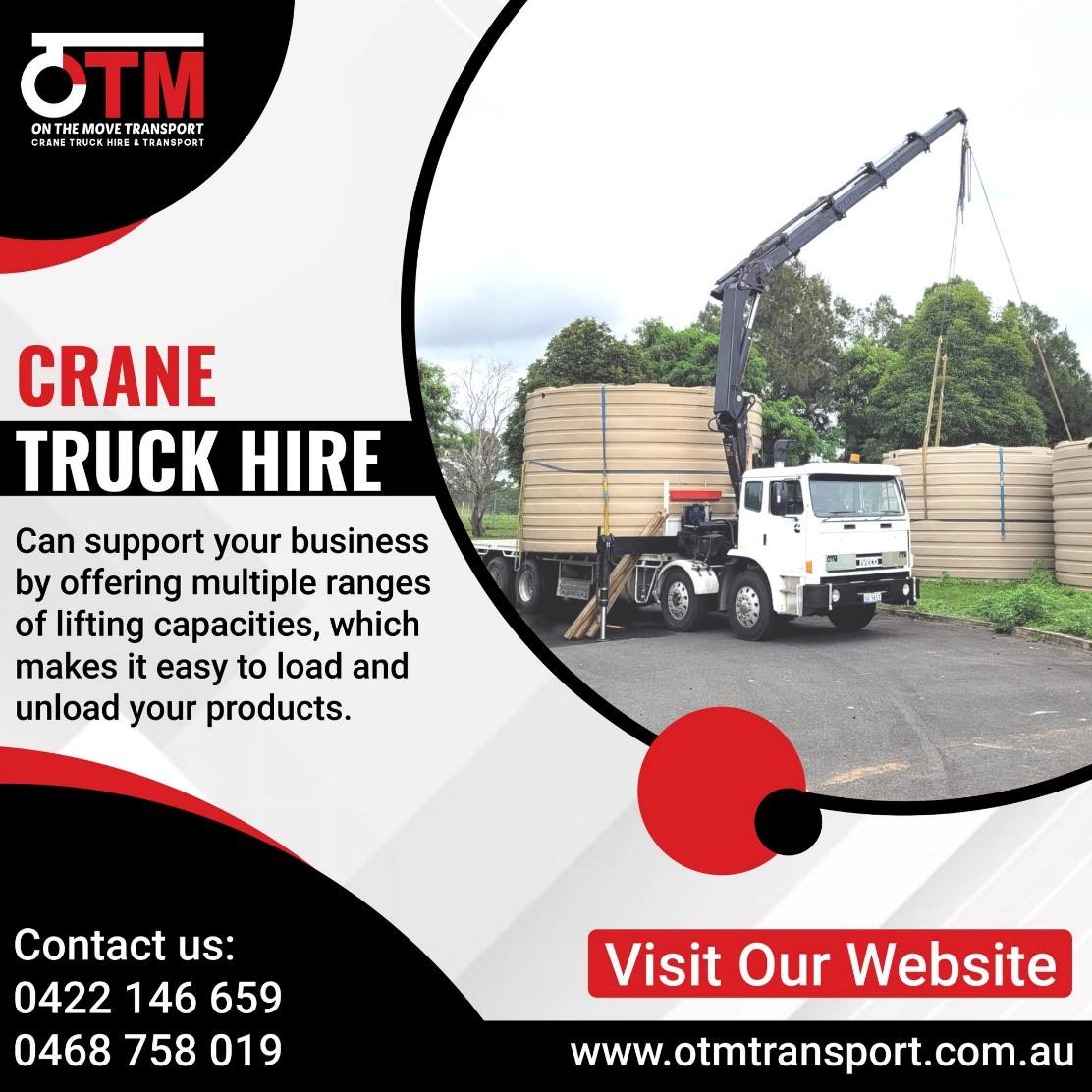 Anywhere, anytime:
Hiring crane truck service providers ensures that you can access the machinery anywhere and at any time. No matter how big the project is or where the job site is located, A reliable firm or service provider offers services in various regions, so you need not worry about getting crane trucks to your job site.
Save big bucks:
Buying crane trucks may make you pay more, and apart from this, maintenance charges and repair costs may give you a headache, so it is better to hire these trucks to get the job done.
Less paperwork:
You need not deal with lots of paperwork and logistics if it is about hiring an operator. Buying such machinery can be a complicated process, including lots of paperwork. It also involves extra departments of transportation. Hiring crane trucks saves you from crane maintenance and crane servicing and storing the machinery. Sometimes your job site does not have enough storage to store this machinery, so mobile truck hire services can come in handy.
These are the top advantages to going with hiring solutions. Apart from it, you can enjoy many other perks. You can hire the latest version of such trucks, so you can access the latest technology. If you are planning to hire the latest crane trucks to perform construction work quickly and on time, you should go with the best service provider. It can make it easy for you to complete your project with ease in Brisbane and the Gold Coast.
Conclusion:
Crane trucks for hire in Brisbane and Gold Coast can be easy with otmtransport.com.au. You can enjoy many benefits of hiring and a few of them we have mentioned above. You can find a wide range of crane trucks for hire and save big on them. Go for it!